Thank you for an inspiring seminar!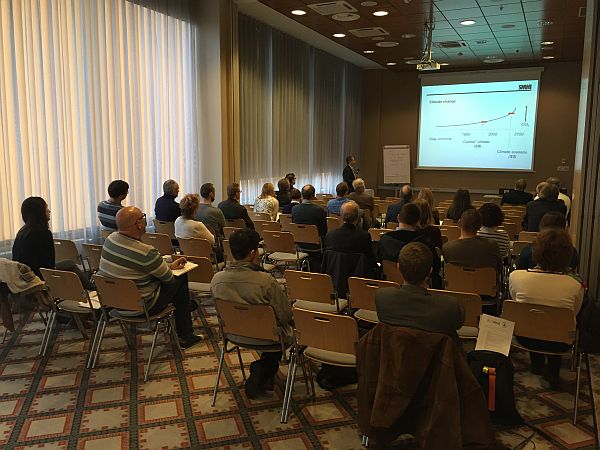 The main idea of the seminar was to describe interactions between the Gulf of Finland with the Baltic Sea, providing new information of the poorly-known exchange processes in between the basins. The interactions include meteorological, oceanographical and hydrological process descriptions.
The intention was to give students working at Gulf of Finland issues the opportunity to present and discuss their work among each other, and also with the senior scientists present. The morning session was dedicated to four keynote presentations of experienced Baltic Sea and Gulf of Finland researchers, while PhD students presented their work in the afternoon session.
A vivid discussion followed both the talks of the "old guys", and the presentations of the young scientists. Primary topics discussed in the first part were the impact of climate change on the circulation and distribution of nutrients in the Baltic proper and the Gulf of Finland, the impact on eutropication and the ecosystems, some up-to-date information on the recent large Major Baltic Inflow and the resulting nutrient and oxygen conditions, and some examples for applications of optical remote sensing techniques from space.
The afternoon presentations by young scientisis were more specific, reflecting their current work. Presentations spanned various topics related to the Gulf of Finland: monitoring data analysis and model development of the biogeochemistry, wave modelling, extreme sea levels, upwelling events and the general hydrography.

Morning presentations can be downloaded here
Physical-Biogeochemical modelling of the Baltic  Sea- Gulf of Finland, fluxes between the basins
H.E. Markus Meier, Leibniz Institute for Baltic Sea Research Warnemünde and Swedish Meteorological and Hydrological Institute, Kari Eilola, Swedish Meteorological and Hydrological Institute, Kai Myrberg, Finnish Environment Institute, Germo Väli, Marine Systems Institute at Tallinn University of Technology
Specific effects of climate change on the Gulf of Finland ecosystem
Markku Viitasalo, SYKE, Finland
Nutrient and oxygen dynamics caused by the the December 2014 inflow
Günther Nausch, Leibniz Institute for Baltic Sea Research Warnemünde, Germany
Optical remote sensing in Baltic Sea studies
Tiit Kutser, University of Tartu, Estonia