The 1st BACC II Lead Author Team Meeting
Wallenberg Conference Centre, Gothenburg, Sweden
23 and 24 November 2010
Almost all BACC II Lead Authors made it to the 1st Lead Author Team Meeting in a snowy Göteborg, 23 and 24 November.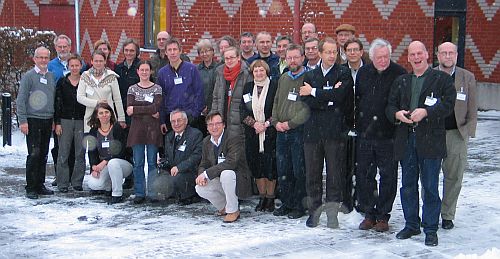 From left to right: Anders Omstedt, Phil Graham, Sonia Deppisch, Anna Wramneby, Anna Rutgersson, Joanna Wibig, Benjamin Smith, Sirpa Rasmus, Christoph Humborg, Jukka Käyhkö, Tadeusz Niedźwiedź, Sirje Keevallik, Marcus Reckermann, Dennis Bray, Birgit Hünicke, David Simpson, Irena Borzenkova, Jari Haapala, Rajmund Przybylak, Ole Bøssing Christensen, Jüri Elken, Bernd Schneider, Joachim Krug, Hans-Jörg Isemer, Markku Viitasalo, Hans von Storch, Ilppo Vuorinen, Pekka Niemelä
This was the first joint meeting of the BACC II Team, bringing together the new Lead Authors (LAs) and the members of the Science Steering Committee (SSC). The aim of the meeting was to allow an exchange of information and views. The meeting title (1st BACC II Lead Author Team Meeting) is to emphasize the quality of BACC as a team effort. The main outcome of this meeting was intended to be a clarification, mutual understanding and agreement of chapter contents to avoid overlaps and warrant a consistent and coordinated book structure. The discussions were vivid and open, and many aspects could be resolved, while some issues still remain to be settled.
Find more in the minutes here.
More infos and presentations here (internal).
---